Who is Tarkan?
Tarkan is a Turkish popstar, who is immensely popular in his home country and has a growing following across the world.
He was born in 1972 in Alzey, a small town next to Frankfurt in Germany. He moved to Turkey in 1986 with his parents and found musical fame in Istanbul, with his first musical release in 1991.
In 1998, he garnered musical success and critical acclaim with his song "Simarik" (Spoilt/Kiss Kiss), which not only topped the charts in Turkey, but went on to top the charts across Europe and Latin America. Many singers have made cover versions of his song, the most recent being Holly Valance, who topped the charts in the UK with her own version.
He is Turkey's first successful international star.
What is Tarkan DeLuxe?

Tarkan DeLuxe is a Tarkan fansite and was created by Ali Yildirim in 2003. It's a premier website for premier fans of a premier popstar: Tarkan!

TdL's main manifesto is concerned with the fans and not directly with Tarkan. Although the site is of course centered around the Turkish pop singer, the aim of tdL is to be more fan orientated and to produce freely avaliable English translations of song lyrics, news and information for non-Turkish speaking fans.

Ali Yildirim began translating Tarkan song lyrics and articles into English as far back as 1998 and some of his translations of the song lyrics even found their way onto the cover of Tarkan's self entitled album, Tarkan (2000, Universal Latino). But it was only until recently in 2003 that he decided it was time to open a site for non-Turkish speaking fans of the Turkish singer, and fill the gap in demand on Tarkan over the Net.
His vision was to produce quality information relating to Tarkan, for fans not knowledgable in Turkish.

As his intial site Tarkansongs grew, it was finally incorporated into the Tarkan DeLuxe website of today, which boasts a Press Room Archive with a News Room and Press Area of over 200 translations from magazine and newspaper clippings, English translations of Tarkan's songs and albums, a links and information portal that has collected data from all over the Net on how to access Tarkan information more easily and quickly. This agenda has been furthered by tdL's huge contributions and collborations with editors to the open projects DMOZ, MusicMoz and Wikipedia in relation to Tarkan.

Today, no Tarkan fan, whatever age, creed or colour should find difficulty in obtaining some news about Tarkan, or discovering the meanings of his songs.
Tarkan DeLuxe has no special affliation with the popstar whatsoever, and is proud to say that it was the first site to start a special affliation with the fans instead.
This site is dedicated to Teemeah Baksa from Hungary, Mary Nol from Australia, Wendy from Belgium, Nati Su from Brazil, Inge from Holland, Ina from Norway, Kiara from Italy and to all the members at the HTF Forum: These people are the ones that make Tarkan great.
You can find a more indepth Q&A section at our very own links portal, which you can access from the portal's main menu.

If you are webowners with Tarkan sites and wish us to link to you, or you to link to us, you will also find our banners and contact information at the tdl links portal.
We hope you enjoy your stay.

TdL Copyright Policy 2005-2006
ALL original content, design and the large body of work that constitutes the Ali Yildirim translations, unless otherwise stated are the sole property of Ali Yildirim.
Tarkan DeLuxe advocates and actively participates in the freesharing of information, and everything at tdL is available for personal use provided that credit is given and copyright is attributed. For the use of tdL content and Ali Yildirim's translations on other websites, express permission and providing a link to tdL on the user site is required.
Everyone at Tarkan DeLuxe takes this issue very seriously, as a lot of hard work goes into this site. TdL will never ask for money or any extra commitment from the users of its content, apart from recognition and respect for the work it does. We actively pursue cases where copyright infringement has occurred, and where necessary block offending users and take legal action - wherever they happen to be in the world.
It's time we made the Net a better world, with respect for people's hard work and a coda of proper ethics in information sharing.

That time starts now.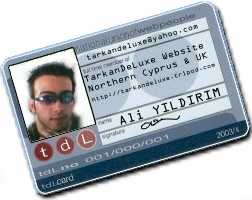 Back to Main • Tarkansongs • Tarkan Card • HTF Tarkan Forum • Starpages


• •



Ali Yildirim related links: Blog • MKP • Ali FM Playlist
tdL contributed Tarkan open projects on the Net: DMOZ • MusicMoz • Wikipedia
This site requires:

•

• Javascript • DirectX


«#Tarkan Addicts?»