Blestyashie - A "Brilliant" Love
The girl-band Blestyashie " Brilliant " was formed in 1995. The idea of the group's creation belongs to two well-known, talented producers: Andrey Shlykovu and Andrey Groznomu.
Their first song " There, only there " rushed into all Russian charts. It was followed with "Flowers" and the "Fog", ending in a debut album. Original arrangements, love-laden songwords and seductive clips have made the group incredibly popular in their home country. A nationwide Russian tour following their debut album cemented their success in Russia. The album " There, only there - Remixes " was released in 1996.

They grew from a girl pop-band with the result of serious works such as " Where you, where? ", "Clouds" incorporated into the album " Simply Dreams " (1998) to become musical best sellers.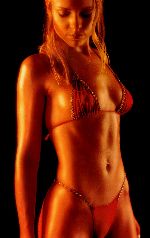 Their music videos have been labelled the most seductive of the year and journalists recognise them as the best female group to come out of Russia. Because of an active tour programme, the recording of a new album is constantly being postponed, although songs for a new album have already been written by the composer "Brilliant" Andrey Groznym.

"Brilliant" began their career when the new wave of the Russian Pop Idols had just begun to appear. Much has changed since then, but "Brilliant" is as popular as ever. They continue to rise with constant hardwork and quality music that is a criterion of talent and skill.
A new project for the girls involves the Turkish Pop sensation Tarkan. Talks have been continuing for a year, and it seems that both sides have finally given the "green light" to begin recording a duet. The girls' management suggested a song which was refused by Tarkan. Instead, Tarkan suggested a song he had composed, but had not made his 2003 album "Dudu". The name of the song is "Askim" (My Love). At the moment the girls are working hard on their language skills, as they need to learn Turkish. The duet will be recorded both in English and Turkish.